Make sure it'll suit your taste, your style, and your overall bathroom design. Since your faucet is a part of your bathroom vanity, the best thing to do is to use it as your starting point when shopping for this essential fixture. To start, let's take a look at the most popular faucet types, designs, and faucet finish available.

Sink Faucet Types
---
Centerset
A common faucet style that works well with both three-hole and single-hole sink basins. Centerset faucets require two drilled side holes in-between a 4-inch gap. It features two faucet handles attached to a deck plate and a single-hole spout faucet.
Pros:
Easily installed
A popular choice
Space saver
Better water control
Offers cold/hot temperature options
Cons:
Needs a three-hole countertop/sink
Difficult to clean
---
Single-hole

This bathroom faucet type is a single unit that can have one or two faucet handles that control water temperatures. It's an ideal design for touchless or touch-activated faucets as well.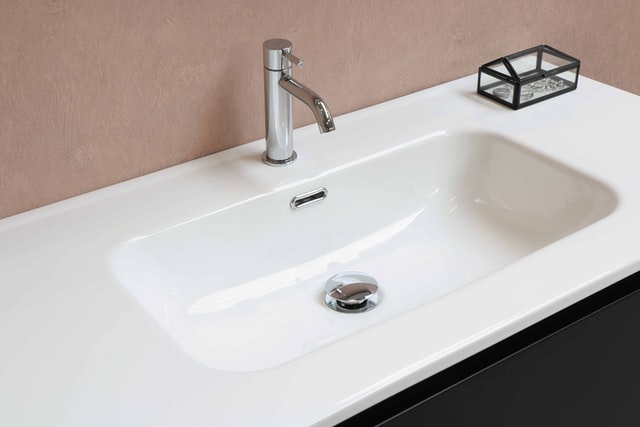 Pros:
Perfect for small sink spaces
Provides precise water volume
Better temperature control

Cons:
It'll take for the water temperature to set
Comparatively lacks useful features
---
Widespread

Widespread aka "spread-fit" faucets are perfect for bathroom sinks with three-hole basins. It consists of a single-hole spout faucet and two faucet valves with a 6 to 16 inches spacing in-between handles.

Pros:
Durable
Easy to clean
Instantly curbs your bathroom's appeal
Cons:
Only works with three-hole basins
Weak water stream
Water temperature might take time to set
---
Wall-mount

These are faucets fastened into the wall and work well with freestanding basins or undermount sinks for a sleeker look. It usually comes with elongated spout faucets for further reach. Designs like these can work with single or two-handed faucet valves.
Pros:
Opens up more sink space
Modern and stylish
Easy to clean
Offers wider motion range
The best option for touchless or touch-activated faucets
Cons:
Huge water splashes (if the sink isn't deep enough)
If damaged, parts of it aren't easily replaced
Can be more expensive compared to faucets attached directly to the bathroom sink
---
Vessel
The best option for vessel-type bathroom sinks. Faucet designs like these sit higher than any other type because of its 4-inch and above height requirement. It usually comes with a wide range of styles and finishes, and commonly works well with single-handed faucet valves.
Pros:
Easy cleaning because of its separate faucet and washbasin feature
Higher rate of changeability in case a new trend comes in
Created a luxurious bathroom feel

Cons:
Prone to water overflow
Might not be a good match with a pre-existing vessel sink (if not checked or measured beforehand)
---
Sink Faucet Designs
One-handle Faucets
This is the most common faucet design and is often seen in many households. One-handle faucets are used by turning the handle in both directions for water temperature control. This design only requires a single predrilled hole so it is the easiest to install.
Two-handle Faucets
This design is in contrast with the single-handle faucet. With its dual valves, you can set the water temperature by using both handles and operate with ease. Depending on the bathroom faucet type, this two-handed design requires either one or two predrilled sink holes.
Vessel Faucets
Unlike the rest of the sinks, vessel faucets are usually installed directly into the countertop. Since it is typically installed with a vessel sink, faucets like these need to be taller than the rest of the usual designs to rise over the rim of the basin or bowl.
Image by Aqua Mechanical via Flickr
Waterfall Faucets
Waterfall bathroom faucets have unique and modern faucet spouts that are way different than the traditional ones. This design uses an aerator to direct the water flow—creating an open concept spout design.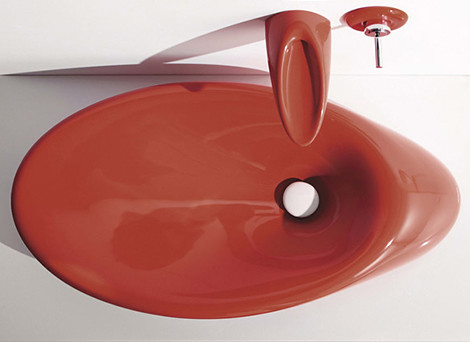 Image by highfithome via Flickr
---
Sink Faucet Finish
---
Installation Costs and Other Factors
The average cost to install a bathroom sink faucet is $111.09 (with costs ranging from $69.61 to $152.56. The estimated price for labor and materials per faucet is $369.65 (coming in between $294.67 to $444.62). A typical faucet project costs $370.
Your actual price will depend on these factors:
Location
Job size
Faucet condition
Plumbing
Mounting choice
Faucet Design
Finish option
Has this guide helped you with your buying decision? We do hope so. If remodeling your bathroom has been a recent lingering thought, we might have a solution for you! Eano offers quality home remodeling services and bathroom renovations are one of our fortés. Feel free to contact us and let's discuss your future remodeling options further.
*All images are from the internet.
Sources/references:
https://www.lowes.com/n/buying-guide/bathroom-faucet-buying-guide1
https://www.thespruce.com/ultimate-bathroom-faucet-buying-guide-4059891
https://www.hayneedle.com/tips-and-ideas/bathroom-faucet-buying-guide/
https://www.wayfair.com/sca/ideas-and-advice/rooms/bathroom-faucet-buying-guide-T322
https://porch.com/project-cost/cost-to-install-a-bathroom-faucet
Get In Touch
Thank you for visiting Eano! Subscribe now to receive free renovation tips, discounts on materials and more!
To log in, simply enter your email address—no password needed.
Or