The booming housing market in the Bay Area is nothing new. However, the ongoing global pandemic seems to have increased the already costly living in California. Sales volume, house prices, and residential demands have continued to increase further through 2021, with the median price of a house expected to rise by 5.7%.
According to CoreLogic's analysis, the median price in the eight counties of the Bay Area has reached $982,000 (as of October 2020). This is the main reason why many people begin to choose a good location where house prices are not relatively high. The good news is, these homeowners have found the most affordable way to do it and this is by choosing to buy an already existing house that is up for renovation. In this way, people have all the freedom to rebuild their living space according to their own standards and style without the need to spend that much. As long as you control your budget and timeline, buying a cheaper house for renovation seems like a good option plus it easily adds value to your house.
---

For you to get a clearer picture, here's Eano Home Renovation's previous project showcase where we've had renovated the whole house for the most affordable price you could ever think of. To see which parts were remodeled by our team, here's a short breakdown:
(1) Front door
To make it more brand new, we've taken out the old and traditional style into something more modern and unique. We've replaced the front doorstep with a bright and cool blue color for a more refreshing look. We've also topped it off by splashing a fresh coat of exterior paint for a more finished aesthetics.
(2) Kitchen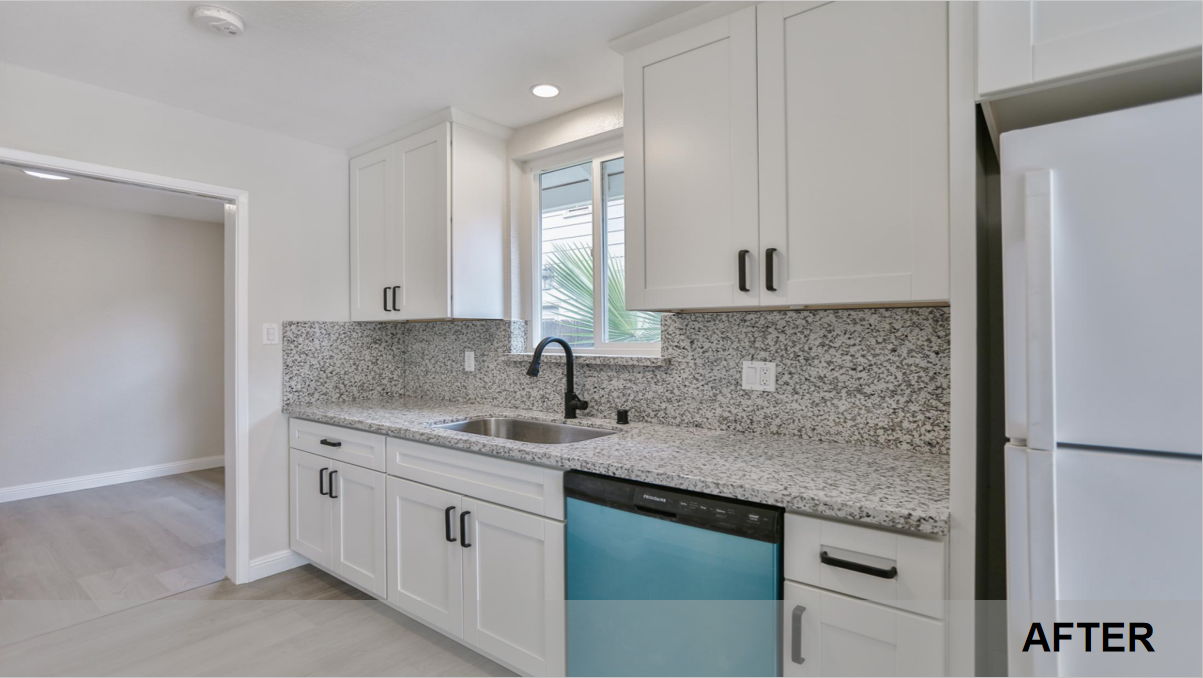 In here, we've replaced the seemingly outdated stove and dishwashers with new ones. We've also thought of installing new cabinetry to increase storage space and painted it white all over. As for the countertop, we've given it an extra texture by installing a marble grain material, offering a new functionality along with its fancy look.
(3) Bathroom
When it comes to the house's bathroom, the former alcove bathtub has now been replaced by a framed layout, walk-in shower, and a sliding door is added to prevent excess water splashes. The commonly used pedestal sink has also been replaced by a much modern-looking under-mount sink partnered with a matte black, single-handed faucet. This transformation has dramatically increased the bathroom's overall storage space. Also, the newly installed walls and other elements made the entire room bright and comfortable!
(4) Bedroom
Now, the bedroom. For its entire wall, we've decided to repaint the whole thing to create a fresh vibe, making it cozier and brighter. We have also taken out the old carpet and replace it with carefully handpicked hardwood flooring since this adds up to the aesthetics and promises to last a lifetime (with proper maintenance and care).
(5) Garage
Finally, we are down to the house garage. Since we promise to leave no stone unturned, we have breathed new life to the garage as well. We painted it anew, cleaned everything up, and immediately transform it into something more neat and appealing.
Though we are well aware of the price hike happening around one of the biggest housing markets in the country, people still managed to max-out their options—and this is by purchasing a house that is up for renovation. Please do keep in mind that this house did not change its original structure, our team in Eano Home Renovation just did simple remodeling work. For its price of $60,000, we're sure to have exceeded what's expected out of that budget. It took us a whole month to finish the entire home remodeling. Whatever purpose this renovation may serve—for a personal living space, rental purposes, or home-selling—this is definitely worth it.
Three Takeaways:
What Eano can do for you?
1. Provide you a virtual estimate
Send us photos and videos of your space. Tell us about your goals. We'll give you a proposal with projected timelines and scope of work.

2. Lets you meet your project manager
Your personal project manager and the dedicated Eano design team will meet with you to go over details and your overall vision.

3. Takes care of the permit and construction materials
We will measure your space, get building approvals, provide detailed drawings, set up pre-renovation home protection, and deliver materials.

4. Render rapid and hassle-free renovations
That's it! Your project will be built reliably and efficiently by a trusted, qualified local contractor. We're sure to keep you in the loop for any updates from start to finish.
Ready for your next home renovation?
Now that you've seen how affordable it is to remodel your home, start your next house project and work with Eano Home Renovation. We offer a wide range of remodeling services that would not only suit your taste but would also suit your budget. Recently thinking about it? Go ahead and leave us a message at support@redfinvation.com or book your next free consultation with us!
Get In Touch
Thank you for visiting Eano! Subscribe now to receive free renovation tips, discounts on materials and more!
To log in, simply enter your email address—no password needed.
Or