For a simple bathroom, certain areas of it can be the place of self-care and some daily routines. Aside from providing ideal lighting for daily grooming, vanity lights also make a stylish statement over your sink. With so many options to choose from, it can be hard to know what to choose these days. A wide selection of vanity lights is available on the market to provide the light you need in any style. There are a few things to consider when choosing and installing your bathroom lighting so let's go over the five vanity light favorites that you can select from now.
1. ALBERSON COLLECTION 4-LIGHT BRUSHED NICKEL LED
It's designed with contemporary lines ultra-sleek look and high-quality elegant finishes with modern style. It provides an evenly distributed light that everyone will love and it has a sparkling accent that will make your light fixture a piece of art. The light stands out as being attractive because it has a brushed nickel finish and frosted acrylic shade. It's a 3000K that gives a warm but crisper color to improve the looks of your space and make it even more relaxing. It also provides a perfect light and excellent illumination to your room. This vanity light is also 1,400 lumens LED light and has a dimmable feature which makes it more energy-efficient and helps you save up to 98% in energy. The amount of light and the level of brightness that it gives is just right and also there are no bulbs so there's no hassle when it comes to bulb replacement. This brand includes mounting hardware for easy installation that's direct to your wall. It's ETL-listed which means the product has been tested and found in compliance and accepted national standards. It's also damp-rated so it's designed to withstand moisture from room condensation. It's the perfect size for a room with narrow space because of its mounting deck height of 4.6 inches and mounting width of 23.4 inches.
2. LIGHT BRUSHED NICKEL BATHROOM VANITY LIGHT
It's a very pleasant in-home decor by remodeling antique parts into new functional furniture and accessories. It features a clear glass diffuser held in place with a mechanical latch from a spice container. This vanity light displays an atmosphere of positive energy and renewal by updating your bathroom decor with vintage-inspired Calhoun collections for a light bath vanity bracket. A glossy rectangular backplate covered in a beautiful brushed nickel finish continues the classic attitude of the must-have design. And besides, it assimilates bright light bulbs for a pinch of modern shine, or if you opted for vintage bulbs to develop the piece's antique appearance. With its ability to be fully dimmable using dimmable bulbs and considering it can be installed in damp locations. The light fixture offers endless versatility when it comes to finding a place in your home decor vision. This lighting fixture is a must-have for illuminating any bath and vanity set. Whether in a mid-century, modern, or urban industrial, vintage electric, transitional, and farmhouse interiors, you can set up the bath bracket facing up or down, around or over a bathroom mirror to abolish the shadows from your face while doing your makeup. It's time to breathe new life with timeless and truly transformative bathroom lighting. This product is designed for exceptional quality, reliability, and functionality.
3. EQUIVALENT BRUSHED NICKEL INTEGRATED LED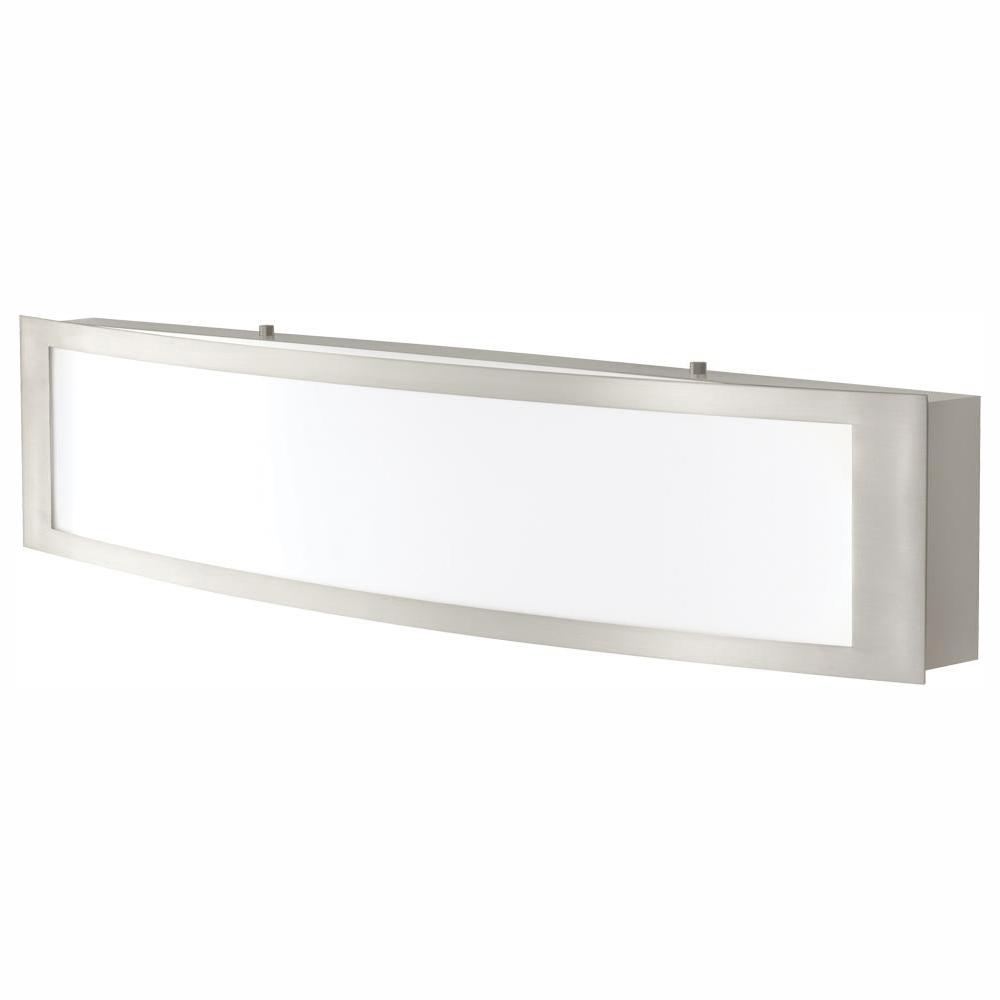 This 24-inch LED vanity light boasts a versatile design that complements any decor—be it in your powder room or bathroom. The warm bright light provided by this LED vanity lights LED light source is equipped with 360-watt incandescent light bulbs but using only 23 watts of energy, so this saves you wattage and a humungous electric bill—talk about energy efficiency and significant savings. Furthermore, the LED light source in this vanity fixture generates 85 percent less heat than a typical incandescent fixture, thus, helping keep your bathroom or powder room cool and with no bulbs required. This LED vanity light from Home Decorators comes with durable steel construction with a brushed nickel-plated finish that coordinates well with most bath faucets and accessories. This brand vanity fixture provides an even and clean illumination with its frosted translucent diffuser. The dimmer switch allows flexibility and control over your desired illumination level. It also boasts excellent color accuracy meaning a CRI of 91 rendering it the right choice for bathroom vanity lights. This vanity light comes with different curved and straight lines as well as provides a modern effect to your powder room or bathroom. LED vanity light by home decorators comes with a five-year limited warranty giving you great value for your money.
4. PROGRESS LIGHTING P30047-20 BATH & VANITY
It features a well-crafted three-light bracket, glass shades with a handmade appearance and an antique bronze finished backplate. This lighting fixture is part of Progress Lighting's Calhoun collection which follows the trend of home decor for repurposing antique pieces. This versatile collection showcases different ways to customize your home. The aesthetic appeal of this product perfectly complements any residential or commercial setting. Whether you want a farmhouse, vintage electric, urban industrial, transitional, mid-century, or modern style, this fixture gives that designer value. The clear glass diffuser has a thickened profile measuring 4 and 11/16 inches in width and 6 13/16 inches in height. It's thoroughly recommended to use a maximum of 100-watt medium base LED CFL halogen or incandescent dimmable bulbs to achieve the optimal illumination of this vanity light. The mechanical latches that hold the glass shades are reminiscent of antique spice jars adding a vintage touch to the design. Light sources are supported by antique bronze finish arms attached to the rectangular backplate. Apart from the positive warm and relaxing atmosphere it provides, users recommend this item because of its easy installation. This energy-efficient fixture comes with a mounting strap for the outlet box and six inches of electrical wire. It can be installed with the glass facing up or down to suit your preferences and style. Measuring 21-5/8 inches in width and 8-5/8 inches in height and extend 6-7/8 inches, its high-quality product is a sure gaze-grabbing decor in any bath or vanity set.
5. TULIANNE 75-WATT EQUIVALENT 4-LIGHT CHROME LED
With its clear cube glass, this will light up your bathroom with sophistication and elegance and has a transitional or modern design that will look nice with any of your bathroom decor styles. It has clean simple lines that will add glow to your wall and with its simple installation design, it's convenient to install above the bathroom vanity. One of the best features of this light fixture is the four integrated LED lights that are hidden behind the stunning clear cube glass. The LED fixture is highly efficient but consumes less energy compared to the traditional bulbs. The LED light can help you save more money and fewer expenses for your electric bills. This energy-saving LED vanity light is maintenance-free, using this energy-saving LED technology won't just save you money but will also upgrade your bath lighting to a stylish one. You can enjoy your time pampering yourself without worrying about your electric bills. Another feature is the four clear cube glasses that housed the LED lights. It's made of clear glass that enables the light to diffuse within the room. When it's lit, the vanity bath is so well illuminated that you can enjoy looking at it while pampering yourself. This is the perfect vanity light for any bathroom and it's manufactured with a durable material such as metal that aims for longer product life.
Get In Touch
Thank you for visiting Eano! Subscribe now to receive free renovation tips, discounts on materials and more!
To log in, simply enter your email address—no password needed.
Or