Since these fixtures are often attached to your very bathroom, every detail should be well thought out. To steer clear of all the hassle, we've created an easy guide for you to stick with while shopping for the best vanity in the market.
Before heading out to the store, here are two of the major factors you should consider:
What size would you prefer and what costs will you incur before, during, and after the installation?
These are just average costs for a premade vanity. It may still change depending on the material and other features you'll be adding.
If you are opting for a custom-made vanity, you need to hire a professional to do it and anticipate such fees:
- Build a Custom Vanity: $500 - $2,800
- Countertop Material: $5 - $135/ sq. ft.
- Installation: $200 - $1,000
- Cost to Hiring a Plumber: $45 - $200/hour
What type of vanity is perfect for your bathroom space?
So far, only these types of bathrooms can be constructed with a vanity. You also need to verify first if adding up a vanity would be feasible in your existing bathroom.
---
What vanity style should you go for?
If you think that you're ready to give that bathroom vanity a go then you can proceed to the next step. Choose from a wide range of designs and vanity styles available in the market! With the installation cost ranging from $300 (low cost) to $1,500, it is wise to only pick the look that best describes or reflects your personality and taste!
---
Types of Vanities
Corner: An ideal type of vanity that could work in a small bathroom. It is often tucked into a corner, not taking up much space but still giving you that much-needed storage. With this vanity, you can have more room for other elements you'd wish to place.
Floating: This type of vanity is usually mounted to the bathroom walls, creating illusive visuals, hence the name "floating" vanity. With this eye-catching effect, it could easily curb your bathroom's appeal in no time. A more contemporary approach for homeowners who are after the overall bathroom aesthetic.
Free-standing: It's one of the most common types of vanities in the market. A familiar design where it is seated directly on the floor and positioned against the wall, fastened by mounting screws.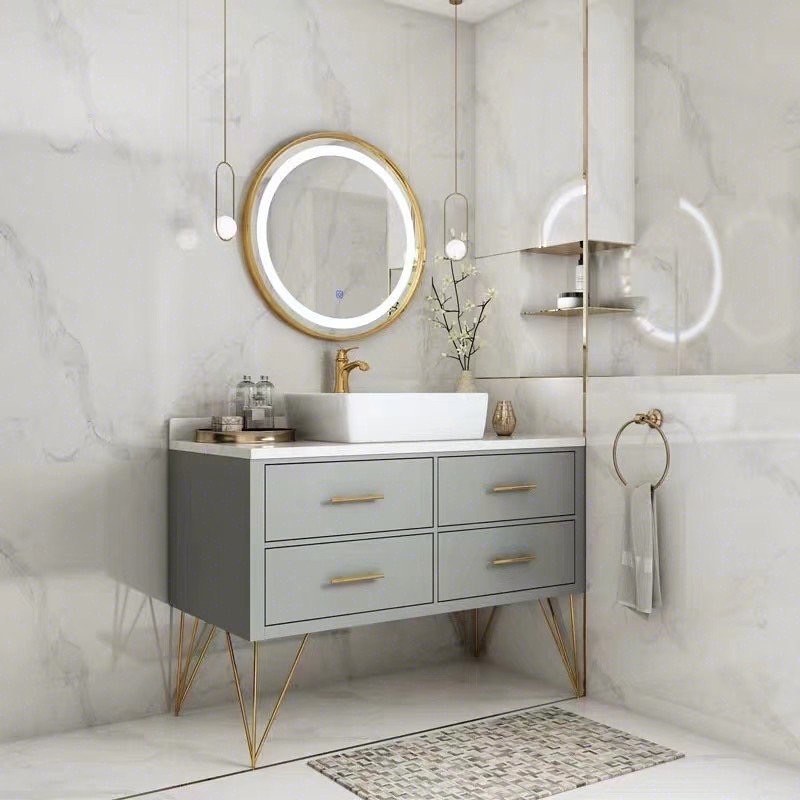 Image by PickComfort via Flickr
Open Space or Console: If you want to achieve a more open type of vanity then this one's for you. It has a simple design that creates a light and airy ambiance of the entire bathroom. With no door panels and drawers, you can easily place your belongings and enjoy filling it up with other intricate bathroom decors.
If you have conceptualized well enough, it'll be easy to weigh up things and choose what you want right away. To help you make up your mind, take note of these things, and make every penny a money well-spent.
---

Vanity Materials
Solid Wood: Vanities made from this material often last and could stand the test of time. Its proven durability is apparent since most households prefer to have vanities like these. Aside from its outstanding quality, solid wood materials are often sleek and stylish to look at.
Rubber Wood: This material offers the 90% strength of oak. It can withstand moisture, mold, and humidity, it's a workable composite material and an absolute eco-friendly. It could be your best choice if you are to strictly stick to your budget.
MDF: Medium-density fiberboard (MDF) is not to be confused with plywood. Amongst the three, this is the most economical option but it has its disadvantages. Because of its inconsistent material—present variance of fiber and wood—its durability may be questioned when situated in humid bathroom conditions. However, recent reviews have shown that well-finished MDFs are as good as any other vanity materials.
---
Traditional vs Contemporary
Traditional: Classic styles that would warp you back in time. These are embellishment heavy, stained with an array of colors ranging from white to earth tones. Its key features include intricate details, scalloped legs, cabriole legs, decorative edges resonating an overall regal vibe. Mahogany, oak, and dark woods are often used for this style.
Image by FlooringClarity via Flickr
Contemporary: Contemporary bathroom vanities have stunning visuals. Its key features are minimalist arrangement, sleek and polished lines, asymmetrical curves, striking yet simple details, deep monochromes, and neat aesthetics-a modern look that is pleasant altogether.

*All images used are from the internet.
Sources/references:
Get In Touch
Thank you for visiting Eano! Subscribe now to receive free renovation tips, discounts on materials and more!
用此邮箱注册,不需要密码,以后用邮箱秘链登陆
Or