Given this reality, it's obviously important that you use your money wisely and spend it on the areas that matter most. If you ask a group of interior designers this question, you will likely get different lists. Some of this is subjective but there will definitely be overlap on some of the items because some of this does come down to experience. What we'll show you are list areas where homeowners can gain a great return on investment. Here are these five areas where we would tell you to either spend some money if you weren't planning on spending any money or just spend a little more of your budget than you may have originally planned.
COUNTERTOPS
We're pretty confident this is what every designer would agree on. Functionally, your countertops can absolutely take a beating regularly so you want something that will hold up and look great for years to come. Aesthetically, it is truly one of the first things that people look at when they walk into a kitchen. If you go with a particularly exquisite choice it will definitely set the tone and even dictate the design for your kitchen. If you ever sell your home, high-quality countertops are always desirable so we would advise you to spend some money on a high-quality material like quartz or granite. If you have a really tight budget but you have an existing kitchen island then definitely spend some money on a beautiful high-end piece of stone then go with a more affordable countertop option—such as a solid surface for the perimeter of your kitchen.
CABINETRY
We would also advise you to invest some money in certain aspects of your cabinetry. If we need to replace all of our cabinets, most of us love the look of a custom couch a tree but many of us either can't afford them or don't want to spend the money for them. Thankfully you don't have to go top-of-the-line to get a decent quality cabinet, our advice is to go with a mid-range cabinet box and door which can save you thousands, and rather spend some money in certain key areas related to cabinetry. First, splurge on soft clothes hinges and glides and full extension drawer slides. These were once considered a luxury but they are definitely becoming more common and a great selling point if you do sell your home. Second, we all think it's best to invest in at least one pair of accent doors or possibly more depending upon the size of your kitchen. We're referring to mullion doors, glass doors, leaded glass doors and, aluminum frame doors. There is an accent door for nearly any style and they really elevate the overall look of your cabinet and your kitchen.
CABINET HARDWARE
This is sadly an area that is usually not given a lot of thought by many homeowners but hardware is something that you're going to be touching every single day. Spending a little more to get a decent quality that feels good and solid to the touch like the door to a bank vault is just so worth it aesthetically. Hardware reinforces whatever style you're going for in your kitchen and it really does make a big difference to the final look of your overall design as a result this is one area where we encourage clients to spend a bit more money.
FAUCET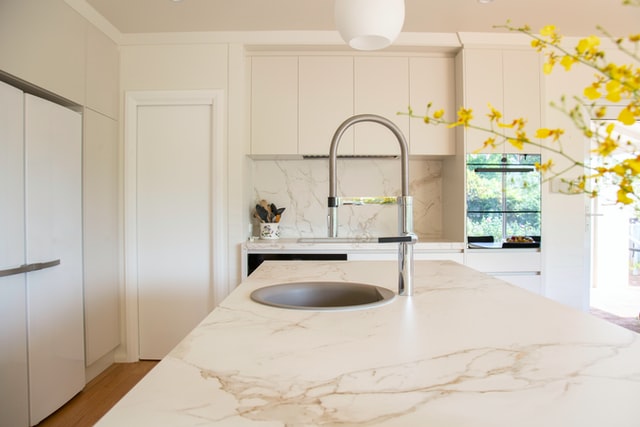 Just like your hardware, you will be using your faucet every single day, and believe me, there's a big difference between the most affordable option and the most expensive option—at least from a quality standpoint. Of course, you don't have to go out and buy the most expensive and in fact, we wouldn't advise you to do that but if you spend just a few hundred dollars at least you can get a good quality faucet with a stainless steel body a ceramic disc valve magnetic spray pull down design and reliable touchless on and off capabilities.
LIGHTING
While most builders do a good job of including sufficient lighting in a kitchen, under cabinet lighting is simply not a standard yet but it should be. Under-cabinet lighting not only serves an important function as additional task lighting for your countertop it also provides a beautiful ambiance to a kitchen because of its low-intensity light. Under-cabinet lighting is ideal, lighting to use first thing in the morning and the last type of lighting in the evening. The cost of benefit ratio for this upgrade is well worth it in our opinion apart from under cabinet lighting, if you have an island or a breakfast nook, take this opportunity to select some statement lighting that reinforces your kitchen style. Great-looking light fixtures can be had for a few hundred dollars so you don't need to break the bank to make a statement in this area. Ideal fixtures for islands are a pair of chandeliers a pair of bold pendants or multiple pendants.
Get In Touch
Thank you for visiting Eano! Subscribe now to receive free renovation tips, discounts on materials and more!
用此邮箱注册,不需要密码,以后用邮箱秘链登陆
Or